The highlight of the night came with Patti LaBelle's soulful performance that encouraged unity and love. She challenged the athletes and audience to reach for their dreams and embrace the world around them. "We are all God's children," said LaBelle "And we need to learn to live with one another."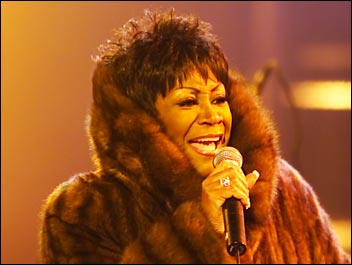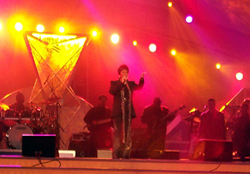 LaBelle, who shed her fur coat for a ski jacket midway through the concert, shook the stage for 35 minutes with songs from the past three decades. The biggest hit of LaBelle's career, "Lady Marmalade," also turned out to be the biggest of the night.*

Earlier, athletes and volunteers danced to the legendary sounds of Patti LaBelle, who had a little fun with the crowd. A freezing LaBelle had to run off the stage momentarily to don a fur coat and scarf, but returned without gloves. *
After expressing how cold she was by singing "My fingers have frostbite!" during one of her opening songs, a pair of gloves was thrown on stage from one of the athletes.
*
As the smoke clears, Patti LaBelle will take the stage for a 40-minute show that is sure to please and entertain the crowd, Paben said.
*
"If you haven't seen Patti LaBelle's concert, you really haven't lived because she has such a heart and soul and such a glorious voice," Paben said. "She is one of the best entertainers I have ever seen."